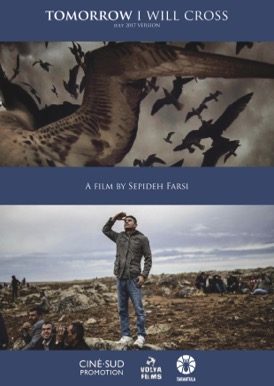 Tomorrow I will cross
A film by Sepideh Farsi, 2018
-
Genre: Drame
Langues: Grec, Anglais, Arabe
Sous-titres: anglais ou français
Format: HD
Son: 5.1
Durée: 90 min
Pays: France, Luxembourg, Grèce
Année: 2018
SYNOPSIS
-
Maria is a Greek police officer, single mom and only child. She juggles between her money problems, her teenage daughter and her old mother and the financial crisis in her country. The police station where she is working is shutting down and she has to accept a new job in the island of Lesbos, far away in the Aegean Sea.
Yussof is a young Syrian, having fled his war ridden country not to be obliged to kill, who also arrives in Lesbos, landing in the refugee camp before he can continue further up in Europe. Maria and Yussof will meet and match in an unavoidable and passionate move. Yussof will follow Maria to Athens, where Maria has to go back in order to find her daughter Daphne who has ran away from home.
There, their roads will part once more. Their encounter would have been brief, but strong.
The one who seems most vulnerable of the two, could finally be the least vulnerable.
CREDITS
-
Réalisation : Sepideh Farsi
Scénario : Sepideh Farsi et Youla Boudali
Image: Pantelis MANTZANAS
Sound: Gerben KOKMEIJER
Costumes: Mayou TRIKERIOTI
Decors: Spiros LASKARIS
Editing: Bonita PAPASTATHI
Cast : Marisha Triantafyllidou, Hanna Issa, Dimitra Mavropodi, Lydia Fotopoulou
Produced by Thierry Lenouvel (Ciné-Sud Promotion), Karabinis Panos (Pan Entertainment), Donato Rotunno & Elise André (Tarantula Luxembourg), Denis Vaslin (Volya Films).
DIRECTOR
-
Born in Tehran, Sepideh Farsi moved to Paris to study mathematics, but soon drifted towards cinema. After some short films, her documentary "HOMI SETHNA, FILMMAKER" won several awards. Followed by "HARAT" and "TEHRAN WITHOUT PERMISSION", that both premiered in Locarno. Her first two features DREAMS OF DUST and THE GAZE premiered in Rotterdam. She then directed THE HOUSE UNDER THE WATER, followed by RED ROSE, premiere in TIFF 2014, followed by DESPO, LABROS, SPYRIDOULA & PAPANDREOU. Her last documentary 7 VEILS won the Grand Prix de la Compétiton Française in FID Marseille (2017).