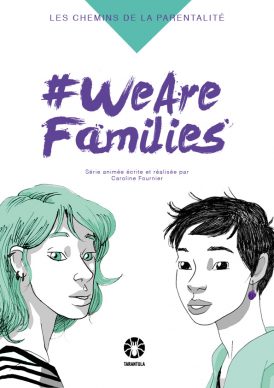 #Wearefamilies
A film by Caroline Fournier, 2018
-
Genre: animated docu-serie
Languages: xxx
Subtitles: xxx
Format: xxx
Sound: xxx
Running Time: 6 x 10 min
Countries: Luxembourg
Year: 2018
SYNOPSIS
-
In today's world, families are experiencing deep changes and new life patterns are emerging. #wearefamilies is an animated docu serie and a cross-media plan that examines parenting and explores new emerging family type in a playful and instructive way.
With the animated serie, we follow Camille and Lysa who are in love and dream of having a child of their own.
ART, IVF, surrogacy, gay parenting, co-parenting, adoption … They decide to explore all the possibilities to help them realize their dream. In their quest, they lead us through what is, nowadays, a not uncommon experience for those couples who do not fit into the traditional concept of family. It is a sensitive and contemporary story of a common quest for maternity which brings us on a journey through the changing patterns of society in today's world.
CREDITS
-
Director : Caroline Fournier