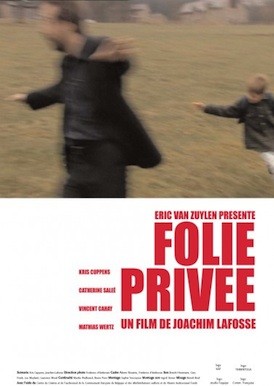 Private Madness
A film by Joachim Lafosse, 2004
-
Genre: Drama
Languages: French
Sous-titres: English
Format: 35mm / Color
Sound: Dolby Digital
Duration: 67 min
Countries: Belgique
Year: 2004
SYNOPSIS
-
Pascale a quitté Jan et a décidé de refaire sa vie avec Didier .Lorsque Pascale revient s'installer à la maison avec son fils Thomas, Jan n'est pas parti, contrairement à sa promesse ;  il refuse de quitter les lieux et de se séparer de son fils.  Pascale n'en peut plus. Avec l'arrivée de Didier, le conflit explose et accentue la colère de Jan, le désarroi de Pascale, Didier et Thomas. En moins de vingt-quatre heures, le destin de chacun des protagonistes va irrémédiablement basculer. Comme Médée, Jan ne peut accepter la séparation.
CREDITS
-
Director: Joachim Lafosse
Script: Kris Cuppens et Joachim Lafosse
Image : Frédércçc d'Ambrosio
Sound : Luc Muylaert et Benoît Horemans
Editing: Sophie Vercruysse
Direction Artistique : Catherine Van Assche
Cast: Kris Cuppens, Catherine Salée, Vincent Cahay, Mathias Wertz
Produced by Tarantula.
FESTIVALS
-
Festival Cinéssone - compétition officielle

Rotterdam International Film Festival, « Cinema of the future sturm und drang » section

Locarno International Film Festival, Competition

Mons International Love Film Festival

Brussels Film Festival

Namur International Festival of French-Speaking Film, Competition

Acadien International French-speaking Film Festival

Premiers Plans Festival Angers

Sevilla Film Festival

"Songe d'une nuit DV" Festival Paris

Bratislava Film Festival, Competition

Cinéssone Festival, Competition
DIRECTOR
-
Joachim Lafosse was born in Brussels, in 1975. He graduated from IAD (Institut des Arts de Diffusion in Louvain-La-Neuve, Belgium) and his end-of-studies film Tribu was well received in many festivals. Working as scriptwriter, director, author and stage director, he moves from one project to the next at a frenzied rate. His uncompromising first feature length feature film, Folie Privée (2004), received many awards. 2006 was a key year for this thirty year old director: Ça rend Heureux, his second feature length film was presented in competition at the Locarno Festival and the Premiers Plans Festival in Angers where he won the Grand Prix. The same year, he received critical acclaim for Nue Propriété in competition at the Venice Festival. Elève Libre is Joachim Lafosse's fourth feature film.