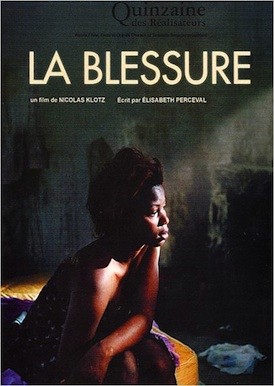 The Wound
A film by Nicolas Klotz, 2004
-
Genre: Drama
Language: French
Subtitles: xxx
Format: xxx
Sound: xxx
Duration: 160 min
Countries: Belgium, France
Year: 2004
SYNOPSIS
-
Blandine is hurt on Roissy's tarmac during a return flight where a group of africans resists to the embarkation. Even if she is on the French ground, her injury, her presence, her being are denied by the police, who she begs for asylum. France is deaf. France is not a safe heaven anymore.
Refugee in a squat with Papi, her husband, who takes care of her, Moktar who's afraid of going outside, Steve who doesn't cherish illusions anymore, Fanny and Kary who sell their bodies to be able to sleep under a roof, Blondine goes deep in her silence…
CREDITS
-
Director: Nicolas Klotz
Script: Élisabeth Perceval
Image: Hélène Louvart
Sound: Alain Sironval, Julie Brenta, Thomas Gauder
Editing: Rose-Marie Lausson
Music: Joy Division
Cast: Noëlla Mossaba, Adama Doumbia, Matty Djambo, Ousman Diallo, Mamoudou Koundio, Gaston Ndiki-Nawete, Mathieu Matula-Matayi
Produced by Aurora Films, Tarantula Belgium, Petits et Grands Oiseaux, Arte France Cinéma.
FESTIVALS
-
36th Cannes Film Festival, Quinzaine des réalisateurs

6th Essonne European Film Festival : Grand Prize

Montreal International Film Festival

Chicago International Film Festival

London International Film Festival

Hamptons Film Festival

Geneva International Film Festival

Los Angeles International Film Festival

Sevilla European Film Festival

Stockholm International Film Festival

Namur French International Film Festival

Ghent International Film Festival

Gardanne Film Festival

Tübingen International French-Speaking Film Festival

Sao Paulo International Film Festival

Geneva Film Festival

Valbonne « Les visiteurs du soir » Festival

Paris Environment Festival
DIRECTOR
-
Nicolas Klotz is the writer of several documentaries, including pictures of musicians like the sitar player Pandit Ravi Shankar, pianist Brad Mehldau or sax player James Carter. After two fiction feature movies ("La nuit bengali" and "La Nuit sacrée", from the Tahar Ben Jelloun novel), he directs "Paria", about the homeless kind of life, a topic he had previously approached on a Arte tv-movie : Un Ange en danger.
PRESS REVIEWS
-
« C'est justement où tout semble se clore […] que tout commence vraiment, et c'est pour cela, aussi, que La Blessure est un grand film. Car la plaie infligée à la jambe de Blandine n'est rien en comparaison de sa souffrance intérieure. »
Jean-Baptiste Morain / Les Inrockuptibles
« La Blessure est une gifle à la face de notre société, un fleuve terrible et majestueux, solidaire de ses acteurs filmés comme des seigneurs altiers. […] oeuvre politique au sens le plus profond du terme, donne une voix à la foule anonyme des sans-papiers. Elle résonne longtemps après le mot "fin". »
Sophie Grassin / Première
« Ce très beau film a le courage de porter frontalement son regard sur une réalité dont l'honnêteté oblige à dire qu'elle incite la plupart d'entre les citoyens de ce pays à détourner prudemment le regard. […] Pour autant, le film ne se drape pas davantage dans la toge des grands discours que dans les oripeaux du cinéma militant. Il demeure, plus humblement, au plus près de la réalité qu'il a entrepris de nous faire entrapercevoir, oscillant entre l'âpreté du film d'action et l'expérience poétique ­ mais non moins politique ­ du partage des imaginaires. »
Jacques Mandelbaum / Le Monde