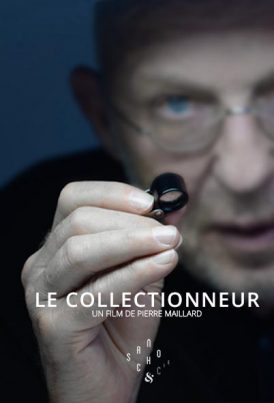 Le Collectionneur
A film by Pierre Maillard, 2017
-
Genre: Documentary
Language: French
Subtitles: xxx
Format: xxx
Sound: xxx
Duration: 52′
Countries: France, Belgium
Year: 2017
SYNOPSIS
-
Arthur Langerman is Jewish and diamond dealer. He has built a considerable fortune through the trade in colored diamonds. Today, more than seventy years old, he wants to make public what he considers to be his most precious treasure: his imposing collection of anti-Semitic images and objects …
Provocation ? Duty of memory or paranoid obsession?
This film is the portrait of an ambiguous collector prisoner of a secret obsession.
CREDITS
-
Director: Pierre Maillard
Image: Victor Blondel
Original soundtrack : Loup Mormont
Sound: Mathieu Rathelot
Editing : Julie Naas
Produced by Antoine Martin (Sancho &Cie – France)
Coproduced by Joseph Rouschop and Thomas Meys (Tarantula Belgique), France 3 Paris Ile de France, RTBF (Belgian TV)
DIRECTOR
-
Pierre Maillard has been evolving for a few years between directing and post-production. In terms of achievement, he displays a varied profile with clips, art film and two documentaries, including a reward at the Stars SCAM 2014: Les Passagers de l'Orage (2013).