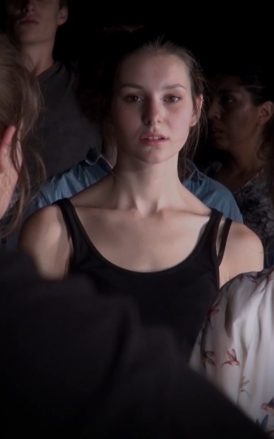 Mon premier rôle
A film by Marika Piedboeuf, 2015
-
Genre: Documentaire
Languages: French
Subtitles: xxx
Format: xxx
Sound: xxx
Duration: 60 min
Country: Belgique
Year: 2015
SYNOPSIS
-
"Mon premier rôle" portrays two friends, Nina and Mathilde from the age of 17 to 20. The drama class of their school is their happy place. They dread the end of secondary school and fear to not be able to make the right choices for their future. Today, everything seems to postpone the moment when we become adults, what does this pivotal period mean to them?
CREDITS
-
Director: Marika Piedboeuf
Cinematography: Federico d'Ambrosio
Sound: Yves Bemelmans
Cast:
Mathilde
Nina
Fanny
DIRECTOR
-
Used to film sets, as a script supervisor on a dozen of feature films, of which six films by the Dardenne brothers, Marika Piedboeuf directs her first documentary in which we find all of her human quality: it's sensible, full of humanity, humility, but also significance and deepness.