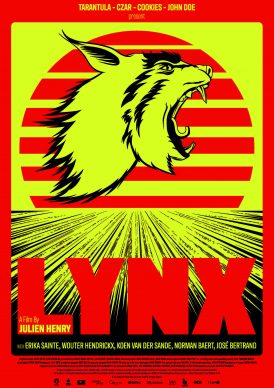 Lynx
A film by Julien Henry, 2020
-
Genre: Thriller
Languages: French, Dutch
Subtitles: French, Dutch, English
Duration: 19 minutes
Countries: Belgium, France
Year: 2020
SYNOPSIS
-
Tony and Marie are passionate about Bangers, a trashy variant of the stock car. Following a tragedy, their couple falls appart. Tony hung up the races as Marie vent her anger onto the speedway in violent crashes. When problemes resurface, they have no choice but to resolve their dispute where their community has always solved them : on the speedway.
CREDITS
-
Director: Julien Henry
Screenplay: Julien Henry, Charles Habib-Drouot & Aurélien Molas
Image: Manu Dacosse
Sound: Olivier Philippart
Production Designer: Kurt Rigolle
Costumes: Alice Eyssartier
Make-up: Sarah Roman
Editing: John Pirard
Music: Julie Roué
Cast: Erika Sainte, Wouter Hendrickx
Produced by Tarantula Belgique, CZAR.BE (Belgium), John Doe Production (France), Cookies Films (Belgium).
FESTIVALS
-
Brussels Short Film Festival, Belgium (2021)

Budapest Film Festival, Hungary (2021)

Le Court en dit long ! Festival : 29ème édition, Belgium-France (2021)

CINEMONDES, International Independent Film Festival of Berck-sur-mer, France (2021)

Russian indie Film Festival, Russia (2021)

GwangHwaMun International Short Film Festival, South Korea (2021)

Sevilla Indie Film Festival, Spain (2022)

DIRECTOR
-
Expert in advertising and music videos, Julien Henry launched into the making of his first short film: "The Lynxes".