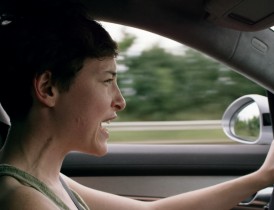 " Baden Baden " : after Berlin International Film Festival
-
Baden Baden has its world premiere at the Berlinale – Berlin International Film Festival this weekend, and the press already talks about it:
BELGIUM
UN GRAND MOMENT DE CINEMA (Website), Nicolas Gilson : " Rooted in reality, flirting with burlesque and opened to allegory, Baden Baden is pure magic. In the course of her first feature film, Rachel Lang enhances her heroine's emanation, a young ordinary girl who embraces life to the fullest without being concerned about a retirement savings plan. Transported by Salomé Richard along with a splendid cast, the film is both lively and melancholic, revealing (or confirming) a talented director."
Paper here
GREECE
Movies LTD (BLOG), Theo Giachoustidi: « Without frills or unnecessary melodrama, the director, through the character of Ana, draws a portrait of modern Europe. »
Paper here
US
TWITCH FILM (site cinéma), Ben Croll : "They say a good film has three great scenes and no bad ones, so by that standard Baden Baden clearly succeeds, but its overall flakiness makes it the friend that's always fun to be around even if you're never really going to get close."
"Making her feature-film debut, director Rachel Lang is throwing down the gauntlet here, saying "here I am!" and saying it well."
Paper here
And the ScreenDaily:
Paper here
Coming soon in cinemas!
VIDEO
-

Warning: Use of undefined constant video_1 - assumed 'video_1' (this will throw an Error in a future version of PHP) in /home/clients/21fad922ace3ab443932632f2260693a/web/wp-content/themes/tarantula/single-new.php on line 56