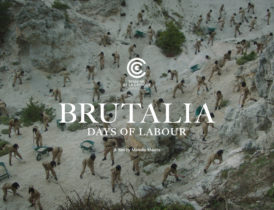 "BRUTALIA" selected to Cannes Critics Week
-
We are very pleased to announce the official selection of the short film "Brutalia" at the Critics' Week for this edition of Cannes 2021. A minority co-production with Greece (Avion Films and Stathi Twins), the film is written and directed by Manolis Mavris.
The synopsis: Perfectly identical girls in military uniforms, work day and night. A matriarchal and oligarchic society. What would happen if we replaced bees with humans? Anna observes the universe of her hive. Not being able to consent to the violence that surrounds her, she will have to make a radical decision.
In Belgium, the film was produced with the help of the Film and Audiovisual Center and the Belgian Federal Government's Taxshelter (via Taxshelter.be).
We are very proud of all the work done and congratulate the whole team for this great news!