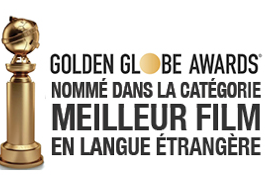 "TWO OF US" by Filippo Meneghetti nominated for Golden Globes !
-
After a very successful career in festivals worldwide (more than 70 selections including TIFF, BFI, Rome, Thessaloniki, Tallinn Black Nights IFF, Tromso IFF, Goteborg FF, Glasgow FF, Dublin IFF, Rotterdam IFF…etc) and nearly 25 awards (Audience Award and Student Award at Cinemed in France, Best First Film and Best Actress in Duo at the 26th Lumières Ceremony…etc.), Filippo Meneghetti's Franco-Belgian-Luxembourgish co-production TWO OF US was nominated for the Golden Globes in the Best Foreign Language Film category.
TWO OF US was co-produced by Paprika Films (France), Tarantula Luxembourg and Artémis Productions (Belgium). The Italian director's first feature-length film was supported by the CNC (Avance sur recette), the Occitania Region and the Film FundLuxembourg, among others. International sales of the film are managed by The Party Film Sales.