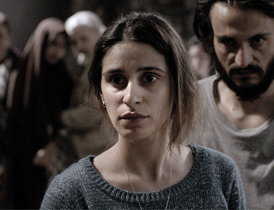 "Le chant des hommes" at Luxembourg City Film Festival!
-
Announced this morning during the press conference at Luxembourg City Film Festival, the Belgian- luxembourgian-french co-production: Rising Voices, by Bénédicte Liénard and Mary Jiménez, will be premiered in Luxembourg on Thursday March 3rd at 7:00 pm at Ciné Utopia in the presence the film crew.
Shot during the summer of 2014, mainly in St-Michel's Church in Luxembourg, mixing professional actors and non-professional ones and bringing together twenty or so different nationalities. This film has already been showed in several festivals, including the 56th Thessaloniki International Film Festival.
The release in Luxembourg is planned from 27th April, and will come with an educational dossier.
VIDEO
-

Warning: Use of undefined constant video_1 - assumed 'video_1' (this will throw an Error in a future version of PHP) in /home/clients/21fad922ace3ab443932632f2260693a/web/wp-content/themes/tarantula/single-new.php on line 56