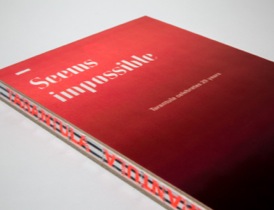 Maison Moderne and Tarantula gains a Gold Cuckoo Award!
-
Our 20th anniversary book "Seems impossible. Let's do it!" published by Maison Moderne won a Content Cuckoo Award Gold in the "Best Content Design" category.  Appearing in December 2015, the 160-page book traces the company's film-making milestones over the last 20 years and gives us the opportunity to meet up with its team of enthusiastic employees.
A new category introduced this year on the initiative of Custo, the Belgian association of content marketing agencies, and bdma, its direct marketing counterpart and organiser of the ceremony, the Content Cuckoo Award aims to "reward excellence in the booming field of content marketing". For more than 10 years the Cuckoo Awards have been commending the year's best Belgian direct marketing campaigns with regard to both creativity and effectiveness.
Order your book on our e-shop.