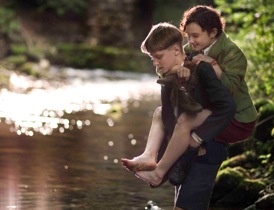 First making-of clip for "Secrets of war"
-
Produced by Bijker Film and Rinkel Film (Netherlands), and co-produced by Tarantula Luxembourg and Living Stone (Belgium), "Secrets of war" get together Maas Bronkhuyzen, Joes Brauers and Pippa Allen, the three childrens in the centre of the film, on a music by André Dziezuk.
A first making-of clip for "Secrets of war" is available here.
Limburg, 1943. Twelve years old Tuur and Lambert are childhood friends living in an idyllic village during wartime. A war that separates what has lived together for so long. Tuur's parents are secretly taking sides with the resistance while those of Lambert join the NSB. Then Maartje, a new girl who reportedly comes from the west, enters the lives of the boys…
The film will be released in Luxembourg theatres next spring.
VIDEO
-

Warning: Use of undefined constant video_1 - assumed 'video_1' (this will throw an Error in a future version of PHP) in /home/clients/21fad922ace3ab443932632f2260693a/web/wp-content/themes/tarantula/single-new.php on line 56