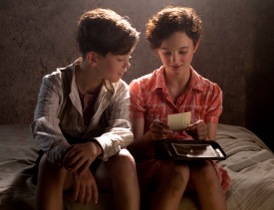 "Secrets of war" won the Golden Calf special Jury award at NFF!
-
We are very proud to announce that last friday, our co-production "Secrets of war" by Dennis Bots has won the Golden Calf Special Jury Award at Netherlands Film Festival. One of the most important awards in the Netherlands. Check the video here!
Limburg, 1943. Twelve year olds Tuur and Lambert are childhood friends living in an idyllic village during wartime. A war that separates what has lived together for so long. Tuur's parents are secretly taking sides with the resistance while those of Lambert join the NSB. Then Maartje, a new girl who reportedly comes from the west, enters the lives of the boys…
Produced by Bijker Film and Rinkel Film (Netherlands), and co-produced by Tarantula Luxembourg and Living Stone (Belgium), Secrets of war get together Maas Bronkhuyzen, Joes Brauers and Pippa Allen, the three childrens in the centre of the film, on a music by André Dziezuk.
A first making-of clip for "Secrets of war" is available here. The film will be release in theatre next march in Luxembourg.
VIDEO
-

Warning: Use of undefined constant video_1 - assumed 'video_1' (this will throw an Error in a future version of PHP) in /home/clients/21fad922ace3ab443932632f2260693a/web/wp-content/themes/tarantula/single-new.php on line 56