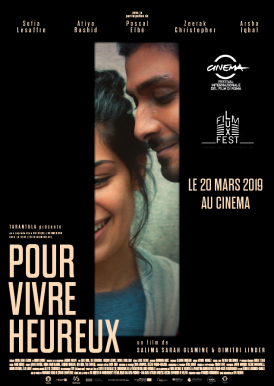 For A Happy Life
A film by Salima Sarah Glamine et Dimitri Linder, 2018
-
Genre: Drama
Language: French & Ourdou
Subtitles: French
Format: HD
Sound: 5.1
Duration: 88 min
Countries: Belgium, Luxembourg, France
Year: 2018
SYNOPSIS
-
Brussels, 2018. Amel and Mashir, 17 and 22 years old, live a secret love story that, under the weight of family traditions, brutally threatens to collapse. Without breaking the balance of those around them, the two lovers will try to save their relationship.
CREDITS
-
Directors: Dimitri Linder et Salima Glamine
Screenplay: Dimitri Linder et Salima Glamine
Image: Joachim Philippe
Sound: Marc Thill
Decors: Laurie Colson
Costumes: Magdalena Labuz
Make-up: Claudine Moureaud
Editing: Mathieu Toulemonde
Cast: 
Sofia Lesaffre, Zeerak Christopher, Pascal Elbé, Atiya Rashid, Arsha Iqbal.
Produced by Joseph Rouschop, Valérie Bournonville (Tarantula Belgique) and Donato Rotunno, Elise André (Tarantula Luxembourg)
FESTIVALS
-
Namur International Festival of French-Speaking Film : Audience Award, Critics' Award, Cinevox Award

Rome International Film Festival - Alice nella Città

Brussels Mediterranean Cinema Festival

Virton European Film Festival

Luxembourg City Film Festival
DIRECTOR
-
After having successfully explored acting, Dimitri Linder became a stage manager for Benoît Mariage, Costa Gavras and Catherine Corsini. Very quickly, he collaborates with directors such as Bouli Lanners and Joachim Lafosse as an assistant director. In 2012, he directs «After 3 minutes», his first short film, co-written with Salima Glamine.
With her acting background, Salima Glamine performed in feature films such as «Fragil(e)» by Martin Valente Valentin and «Ma Place au Soleil» by Éric de Montalier, but also in television feature films including «Tata Bakhta» by Merzak Allouache.